Laugh or cry. Possibly both.
My pal Rupert Mallin was recently on the British Poets list moaning about one of the worst poetry readings he'd ever been to ("No one at last night's reading mentioned the tsunami or anything else which would not get into someone's knickers or underpants."). The reading featured two writers who teach on the Creative Writing courses at the University of East Anglia in Norwich. In the course of his piece, Rupert happened to say "George Szirtes' parents got him out of Hungary in 1956. Great. You'd think George would be forever looking out to engage the world. Yet, he is now Mr Norwich, working between the UEA and the Art School, dampening people down, dampening their writing down."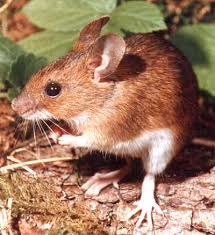 Today comes this news: "Hungarian-born George Szirtes' collection of poetry has picked up the £10,000 T.S. Eliot Prize. His book, "Reel", was judged the best collection of new poetry published in the UK and Ireland. He was handed his prize money by T.S. Eliot's widow Valerie at an award ceremony in London. His work was described as "a brilliantly virtuosic collection of deeply felt poems concerned with the personal impact of the dislocations". Chair of the judges, Douglas Dunn, said: "The judges were impressed by the unusual degree of formal pressure exerted by Szirtes on his themes of memory and the impossibility of forgetting."

(This news quote comes off the BBC website.)
If this all doesn't say something about something I don't know what does. Laugh or cry.
The picture, by the way, is neither of T.S. Eliot nor George Szirtes. It is a mouse.
Incidentally, Rupert has a new website
, which is well worth a visit.