Gabba Gabba Hey etc.
1. The Ramones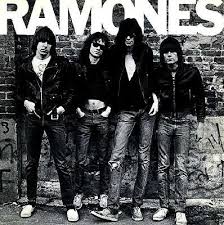 Friday evening Jez and I went to see The Ramones movie – "End of the Century" . What a great film! I hate the word "rockumentary" but that's what it was, and it was cracking. It's full of honesty, emotion, love and hate, brilliant archive material of obscure performances, and fantastic music. Sometimes it's sad and sometimes it's funny. It scores too because everyone involved has their say, so all the arguments and conflicts come out kind of even. There were lots of good moments, but my favourite has to be when Joey's brother is talking about how one night after a gig at CBGB's, he was coming out of the club with Joey and a photographer asks him to step aside so he can take a picture of Joey on his own. It was the moment, he says, when Joey began to change and grow in confidence. From that moment on he started to get girls -- or rather, "girls who weren't on medication."

2. Litter

Alan Baker at Leafe Press has just posted the first showing of a new on-line magazine,

Litter

. Click here, as they say. It's damn fine. Poets include Clive Allen and Kelvin Corcoran, and there is visual work from Rupert Loydell and Alan Halsey. There's not a dud anywhere in this first batch of, well ..... litter.

3. Kenneth Rexroth

And while I'm at it, I'll mention how I just spent the last three or four weeks in the company of a book the size of a house brick: The Complete Poems of Kenneth Rexroth. My review of it has arrived today at Stride, and since I like the book a lot the review is something of a collector's item ….. Well, that's not true, actually. I've written lots of very positive reviews about lots of very good books of poems. People, including me, only seem to remember the particularly devastating and critical ones. Anyway, I liked this house brick loads, and you can go straight to the review by clicking on this little maroon Rexroth.


4. Funeral
Finally, my pal Mr Belbin has been
blogging
somewhat busily of late, and it's worth catching up on. He has also just popped in for a cup of tea, and I've burned a copy of a record he brought around by a Canadian band called The Arcade Fire. No, I've never heard of them either. The record is called "Funeral" (the title itself makes it a record I had to have) and behind the chat it sounded really good, so I'm going to go and play it again now. He also lent me the brand spanking new Aimee Mann Live DVD; he's a capital fellow. So, that's my Sunday evening sorted. The Arcade Fire and Aimee Mann. I probably should read a poem or two, but I don't think I'll have the time.